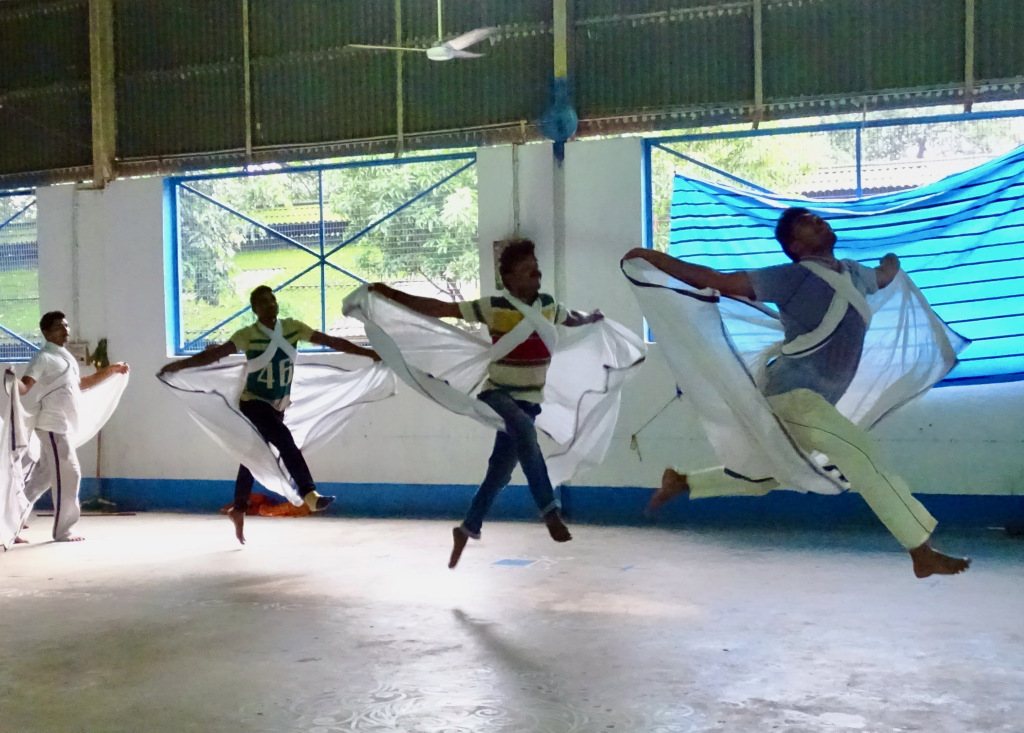 'You know, while doing this, going through this journey, it has changed me. And, yes, I had a spiritual inkling, but being with them – they taught me what unconditional love is all about. They taught me what being non-judgmental was all about.'

– Alokananda Roy in conversation with the Traction Team, 2 December 2020
In Europe, artists involved in community projects talk about impact, outcomes and social change. In India, where she co-creates dance productions with prisoners, children in social care, and others on the margins of society, Alokananda Roy talks about love.
A couple of days ago, I hosted a conversation between Alokananda and some of the artists making community opera through the Traction project. I especially wanted Paulo Lameiro and David Ramy to meet her, because they have been making opera with young detainees for years and I sensed a unity of spirit. The differences between India and Portugal are obvious and yet they were completely unimportant in our exchange of experiences. Young men condemned and outcast, contained together, forgotten except by a few loved ones, burdened by time and feelings, and with no way to express their personality or potential: it didn't seem to matter whether they were in Leiria or Kolkata. They have the same needs – to be seen and heard, to be respected as human beings, with their hurts and offences, to be held, to be loved, and to be allowed to love: these are essential, universal needs. Classical Indian Dance, Italian Opera – the form is unimportant. Art gives us permission to be together differently, to tell our stories, to express our emotions, to share pain and cast off loneliness, to hope, perhaps to dream. Because it is not reality, art is the space in which such things can safely happen – and yet, in its difference, it can bring us closer to the real and the true than most of what we face in everyday reality.
In all the years I've worked as a community artist, I don't think I can remember anyone who wanted to make the play or poem, the photograph or poster we were working on. They wanted to join in, to be part of something good: the play or the poster was the space in which that could happen. The young prisoners with whom Alokananda Roy has created her extraordinary productions, or who learned to sing Mozart with Paulo Lameiro, were not like students who rush to drama school for the love of the art. On the contrary, in her first sessions, back in 2007, Alokananda had to overcome the men's reluctance to do something they saw as feminine, so she began by showing them ancient martial dances. Only when she had won their trust did it become possible to talk about stories, to explore more expressive forms of movement, to open up to new ways of being. And that trust, once given, proved to be the most durable resource. It was strong enough to allow – after protracted negotiations – the prisoners to perform outside the prison, even if at first with one-to-one escorts. Today, there have been over 200 performances in Kolkata, West Bengal and throughout India; the men have made long journeys by night train and none has even tried to abscond. They are, and want to be, part of something good.
'And let me tell you – you all will understand – dance, art, theatre, are the only tools that can actually transform them from within. We all have the same emotions, we all have the same love. [and] we are working together towards a better world where everyone will be accepted as a human being. Everybody cannot excel in everything. But we can find what they're good at and make them feel good. If you feel good, you will be happy and you will do good.'

– Alokananda Roy, 2 December 2020
Listening to Alokananda Roy is to reconnect with the source of the community art practice I discovered so long ago and of the truths about why it matters. On their foundation, we build complicated structures of meaning, connecting with social and cultural policy, research and evaluation, science and psychology, and they are useful and take the work forward. But it is the solidity of the foundations that makes them so.
It is challenging to say, in a culture that believes it places its trust in science and reason, but when we talk about community art, we talk about love. Artistic skills, facilitation and good workshop practice can all be taught: the love that makes the work meaningful can only be learnt.
'I'm totally a heart person, and that is why I call it a love therapy. Other people give it a name without therapy – no, dance has been my medium, it's my tool, but it is actually the love part that has worked. […] And they have enlarged my heart, because I need to accommodate all their love'

-Alokananda Roy, 2 December 2020
Credit: Regular marvels
Subscribe To My Newsletter
BE NOTIFIED ABOUT THE LATEST NEWS AND EVENTS
Get notified anywhere, anytime.