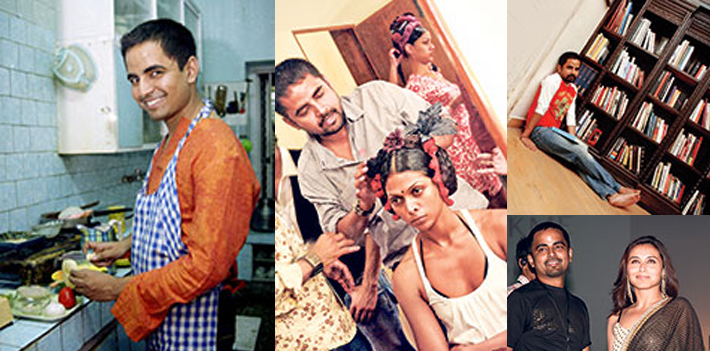 DoB: 23.2.1974
Grew up in: Kakinara
School: Sri Aurobindo Vidya Mandir, Chandernagore
College: St Xavier's College. NIFT (1996)
Work experience: None
First day at work: It was a job given by Koena Mitra where I had to assist Bipasha Basu to choreograph Miss Bengal while I was still in college. I earned Rs 700 for that stint. My first design job was making cushion covers for Neelu Parekh's home.
EARLY DAYS
What are some early childhood memories?
My most potent memories are when I was six or seven years, going to school by boat. I also remember dressing up all the girls in my colony including our maid's daughters as Miss India contestants using dishtowels, kaftans and leftover shirts with lots of needles, pins and safety pins! Eyeliner was Eco felt-pen and lipstick was sindoor dipped in Pond's cold cream!
Who were your earliest fashion icons?
I was influenced by Zeenat Aman, Dimple Kapadia and Madonna. I also looked up to Danseuse Alokananda Roy (who we called Munni Aunty) who lived in the neighbourhood. She wore patiala pyjamas, Fabindia kurtas and Nike sneakers.
What kind of a student were you in school?
I had a multiple personality disorder in school! I went from a very quiet kid to a boisterous brat. I had phases of oiled hair, buttoned-down shirts to crazy orange hair and hand-painted Madonna jeans, complete with crosses around my neck!
NIFT DAYS
When did you decide to join NIFT?
I was helping a friend to get into NIFT when I realised I could do it myself! I finished college and applied. No one at home wanted me to get into design, but I did anyway.
What was your admission test like?
Fun but not as exciting as I expected. I couldn't relate to 99 per cent of the people there!
What were your NIFT days like?
I remember two people from my batch: Shayan Munshi's sister Pooja Munshi who was the cool cat of college and this fabulous designer called Priyantha Iyengar. Being a working student, my attendance was poor. I had a small modelling agency. I was infamous for borrowing money to buy stationery. I promised everyone that I would repay with fabulous clothes one day!
And have you?
Yes!
What was your graduation collection like?
My graduation collection — an eclectic mix of patchwork. The hangover of which I still nurse.
MAKING IT BIG AS A DESIGNER
Did you struggle in your initial days?
Not at all. My big break came when Neelu Parekh recommended my name to Sangita Kejriwal and Purnima Chawla of Espee where I also got my first window display!
Padma Jalan of Little Bee loaned me money when I needed capital. I also consider Darshan Shah to be my secret godmother.
Have you kept in touch with the friends you made then?
I have only one great friend and her name is Meeta. Meeta and her husband used to live down the road and they took me out for my first five-star meal. I was in my grubby shorts and she was dressed in her Chanel finery! We share the same interests — food, films and literature. She has been my gossip gal and my friend for the past 20 years.
Remember the euphoria of your debut edition at Lakme India Fashion Week?
I didn't get euphoric. I panicked. I was stressed about the number of orders I had bagged and their deliveries!
When did you know that you were here to stay?
I knew before I started because I was never enamoured by any clothes anyone was doing. Basically, I was cocksure!
Who was your first big client outside Calcutta?
Anuradha Mahindra. She bought a pair of brocade pants.
How have you changed in the last decade?
I have become more cynical about fashion. I have also become less tolerant and surprisingly, more patient too.
BOLLYWOOD CALLING
How did you land up in Black?
Sanjay Leela Bhansali saw my clothes and called me up. I didn't know who he was! Once my filmi assistants enlightened me and told me it was he who made Devdas, I decided to give it a shot, just out of curiosity. It's eerie that I got a National Award for it!
Who is the most challenging actress you have worked with?
Vidya Balan, because of her reputation with clothes!
Who are your friends and foes in Bollywood?
I have no foes. I have a few friends — Vidya Balan, Rani Mukerji, Tabu and a whole lot of technicians and crew that I interact with.
Is Bollywood a big, bad world?
I am neither a very attractive woman, nor am I a great looking man, so I have been spared!
Do you find it tough to cope in Bollywood sometimes?
A lot. I don't have the mentality or temperament to be part of Bollywood. I like to finish my work and move on but they don't let you do that. They refuse to acknowledge that there is a life beyond films! I have three good releases — Pa, Raavan and Sanjay Leela Bhansali's next with Aishwarya and Hrithik — and after this I will take a hiatus from films.
Picture by Subhendu Chaki
WHAT NEXT
Where do you go from here?
I want to open my stores. I want to take my assistants on educational trips. I want to set up a unit of home textiles. And I want to take up deejaying after the Afraa party!
And what about taking your brand overseas?
No, I am happy in India. I am definitely not doing any international fashion weeks for a while, either.
Finally, what keeps you in Calcutta?
First, it's my parents. Second, it's the cost of production. Third, it's the food. Fourth, it's because of non-interfering neighbours and finally, it's the only city where people ask me for autographs and that's a big high! And on a serious note, I love the pace of the city and that's why I am here.
Source: The Telegraph India
Subscribe To My Newsletter
BE NOTIFIED ABOUT THE LATEST NEWS AND EVENTS
Get notified anywhere, anytime.