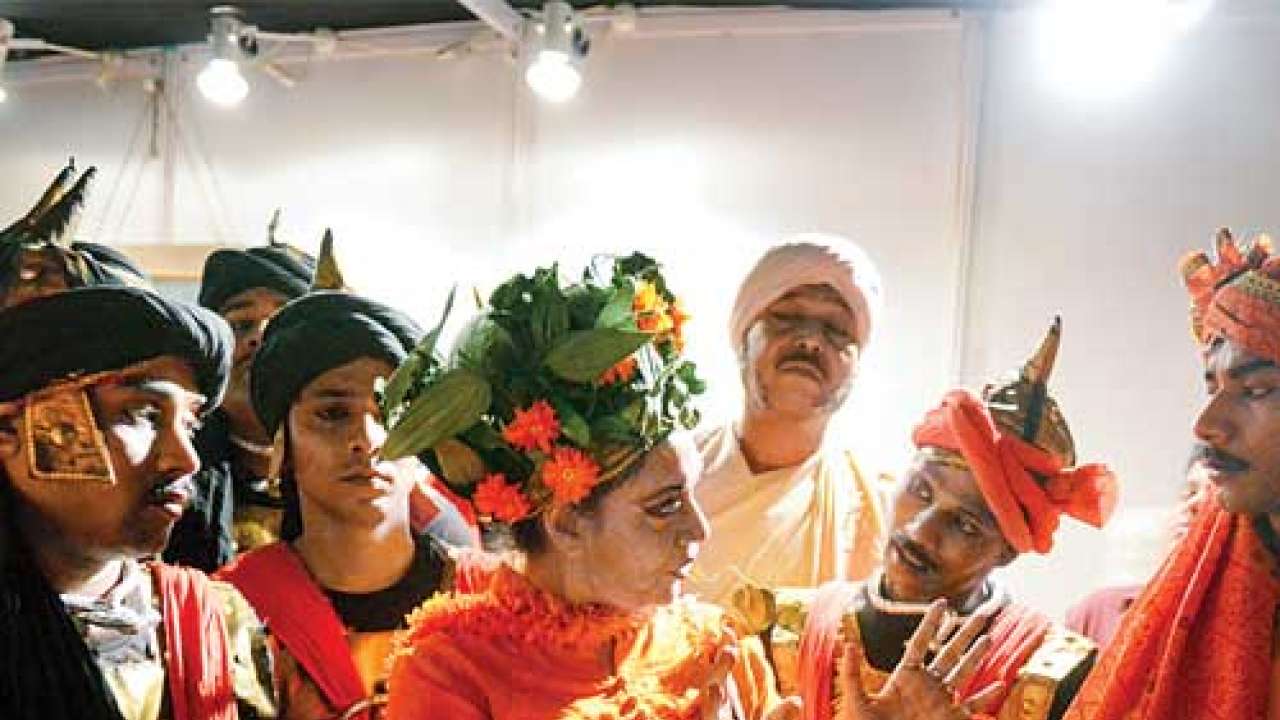 Anita Aikara meets Kolkata-based dancer Alokananda Roy, who has transformed the lives of inmates through dance, drama, and music.
Seated in the dressing room, just before her performance, danseuse Alokananda Roy paints a pretty picture, dressed from head to toe in orange, with flowers coiled around her head. A teacher, a friend, a philosopher, and a guide, Roy, who is fondly addressed as 'Ma' by the inmates, stepped out of her comfort zone this year–along with inmates from a correctional centre in Kolkata–and visited Mumbai to perform during Durga Puja with her team of inmates.
A staunch believer of Mahatma Gandhi's philosophy 'An eye for an eye makes the world blind', Roy has transformed the lives of the inmates through dance, drama, and music. Her dance ballet, Mokshgati, is the story of King Ashoka's life told with a twist. It throws light on important events in his life including his marriage, coronation, and his guilt, repentance and suffering after the Kalinga war, which made him embrace Buddhism. Roy plays multiple roles as a sutradhar (narrator), Mokshada (free of all desires), a village dance teacher, Bharati Amma, and King Ashoka's mother, who guides him.
The dance ballet has been directed by Roy and uses two mediums, film and stage. A film is screened in the background, while the actors perform in the foreground, their movements synchronised with the film. Give her due credit for the perfectly synchronised moves and choreography of the dance ballet and she shrugs it off. "We trained as a team for months. All the inmates are non-dancers. But they have worked hard to get the choreography right," she says.
During the training period, two inmates got released and Roy had to start training the inmates again from scratch. "It is like clockwork. One person leaves and the entire routine goes for a toss!"
With time, however, the gravity and energy she brought on board, rubbed off on the inmates.
Watch them perform on stage and not for a second would you mistake them for amateurs with two left feet. "Their moves have become really graceful," says Roy, who is of the opinion that everyone deserves a second chance including the inmates and their families, who have to deal with the trauma of being rejected and judged by society. "When somebody repents, they get transformed into better human beings," says Roy pointedly, "Who are we to point fingers at anyone? Everyone in my opinion deserves a second chance."
Ask her how it has been working with the inmates and Roy smiles. "I have served a term of seven years with them," she continues, "While the rest of the world would consider these prisoners to be heartless people, they have given me a new world. They are rejected by most people, so if someone extends a hand of friendship, it is a big deal for them."
While the weather in Mumbai, during Durga Puja, was a let down, Roy is happy that her play has been well received. "Initially, I was sceptical that people would not turn up, but despite the bad weather, people turned up in large numbers and enjoyed the play," she says. In Mokshgati, the state of Kalinga is seen as a living being, played by the energetic and effervescent Subhojit Sarkar; the audience, who watched the play, felt that it was an innovative idea to give Kalinga a human touch. "The idea clicked!" quips Sarkar, who shares a special bond with Roy. According to him the best part about working with Roy is that she does not refer to any of the prisoners by their names. "We are all Roys for her because she treats us as her children," he laughs.
Being a part of Roy's team means that you are devoid of any discrimination. Mridu, an inmate, who has been with the group for the last three years, says that 'Ma' (Roy) has embraced and accepted them with open arms. Yusuf Warsi, another inmate, who hails from Kolkata, adds that being a part of Mokshgati gave him a new lease of life. "I learnt to dance from Ma," he gushes, adding that being a part of the dance troupe has helped him earn respect among his family and friends. "People see me in a different light whenever I perform." People, who have worked with Roy, agree that she is truly gifted.
Subscribe To My Newsletter
BE NOTIFIED ABOUT THE LATEST NEWS AND EVENTS
Get notified anywhere, anytime.