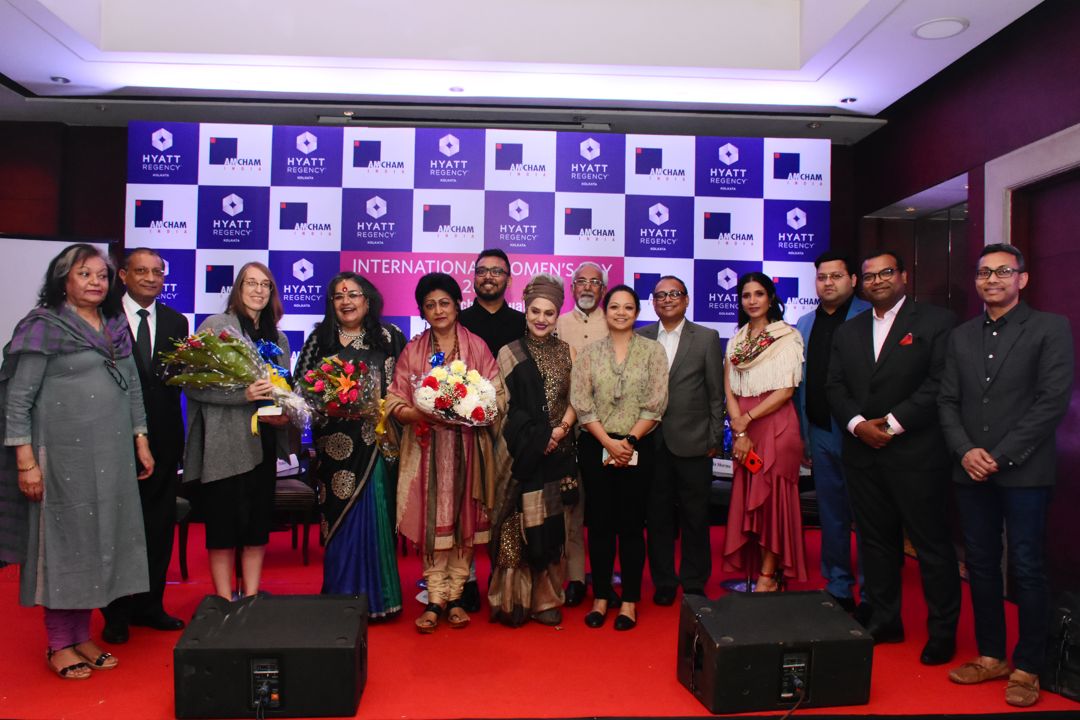 In Kolkata on March 11th, AMCHAM's Eastern Region, in partnership with the Hyatt Regency, organized a panel discussion on #EachforEqual – An Equal World for an Enabled World, which included diversity and inclusiveness. The event was graced by eminent personalities from all walks of life who shared their experience in their journey to success.
Ms. Amada Kidwai, Regional Director – Eastern India, AMCHAM, did the introductions. Mr. Subrata Bagchi, Chairman – Eastern Region, AMCHAM and President, TCG Digital, gave the opening remarks. Ms. Monica Shie, Director, American Center of U.S. Consul General in Kolkata, was the chief guest. Ms. Ondrilla Dutt, CEO, Open Doors, moderated the session. Ms. Usha Uthup, performer and Padma Shree awardee in 2011 was the guest of honor. The panelists were Mr. Shobhan Kumar, General Manager, Hyatt and member of AMCHAM's Eastern Region Executive Committee, Ms. Alokananda Roy, internationally acclaimed exponent of Indian classical dance who works with rehabilitation of women and child prisoners through dance therapy, Ms. Richa Sharma, an actress who also works with women who have suffered domestic violence and Mr. Nil, fashion designer and gay rights activist who is very involved in the LBGT movement in Kolkata.
Mr. Bagchi, in his welcome address spoke about Gloria Steinem, world-renowned feminist, journalist and activist who said the story of women's struggle for equality belongs to no single person nor to any one organization but to the collective efforts of all who care about human rights" and said that collectively we can all play a part and take on the shared responsibility for driving a gender equal world. He said that though the median number of women on Indian boards had doubled in the past five years, they still form a small proportion of the total board members. He spoke about the February 2020 Supreme Court of India ruling that women officers in the Indian army can get command positions at par with male officers. The court also said that permanent commission should be available to all women, regardless of years of service, and order must be implemented in 3 months. This he said was a milestone for women officers in the Armed forces.
Ms. Monica Shie spoke about her own personal journey and highlighted the U.S. government's objectives. She said that when women were economically empowered, they re-invest in their families and communities, producing a multiplier effect that spurs economic growth and contributes to global peace and stability. Women use their earnings to buy food, pay school fees, purchase medicine, that's why women must be enabled. To that end, the U.S. government funds a number of programs aimed at promoting entrepreneurship, particularly among women. The U.S. Consulate Kolkata recently funded a program called "Breaking the Glass Ceiling," which pays for selected women entrepreneurs to participate in online trainings, a boot camp, and pitch sessions to enable them to build partnerships, secure funding, and create innovate goods and services. They also support the Global Links India Alumni Connect Program, which pairs business school students with women entrepreneurs in eastern India to grow their small businesses. The entrepreneurs receive structured training provided by the business students, while students gain hands-on experience with how businesses operate in the real world.
Last year, the U.S. Department of State and USAID signed the U.S. Alliance for Women's Economic Empowerment in partnership with Georgetown University, George Washington University and USISPF. The Alliance enables the private sector, academia, and civil society in the United States and India to collaborate in accelerating the growth of women-owned businesses and women's workforce participation by increasing access to finance, mentoring, and technical assistance. The U.S. has also been partnering with India for three years now on the Women Entrepreneurship Platform (WEP), which highlights existing Government of India programs for women entrepreneurs and assists them in identifying future partners, including American companies such as Google and Facebook.
Ms. Ondrilla Dutt, CEO, Open Doors, moderated the session and introduced the panellists to the audience and invited the panellists to share their own special journey. Ms. Usha Uthup shared her own journey and spoke about her conservative family upbringing and how she was thrown out of music class in school because she didn't fit in with a voice like hers. Even though she was not formally trained in music, she grew up in an atmosphere of music. She spoke about how she has spread the message of love and unity and harmony, tolerance integrity, happiness peace for over 44 years and through music from discotheques to concerts, across Lundia and the Wwrld, she has addressed the youth about the values of music that makes us human. She has sung in 15 Indian languages and several foreign languages also.
Ms. Alokananda Roy, an internationally acclaimed exponent of Indian classical dance, spoke about her reforms for jail inmates, especially for convicts under-trials through her art and love-therapy which has provided new life to hardened criminals. She said that while her love is in surfeit, she is not the one to pull punches while addressing societal injustice. She refuses to espouse stale political pronouncements and never lacks the inner strength to face injustice, whoever be her opponent. She has lived up to her guru Rishi Aurobindo's words, "The great are strongest when they stand alone, a God-given might of being is their force." Ms. Richa Sharma said that being an Indian woman has neither been a privilege nor a hurdle for her. An Indian actress for Bollywood and Tollywood films, a fashion icon, the brand ambassador for an Italian wine, olives and olive oil company, and by taking her coveted position to become a role model to motivate and encourage other women to reach newer heights. She spoke about her work with a number of NGOs towards the development of less privileged women and children in and around Kolkata. The audience were also shown clips of her latest movie "Every 68 Minutes" which takes a hard hitting look at the social imbalance and the horrors associated with it.
Mr. Kumar Shobhan, General Manager of Hyatt Regency Kolkata, has spent 21 years in the hospitality industry in a number of remarkable roles. As a people centric professional he spoke about the initiates Hyatt has put in place. He has been critical in acknowledging the importance of playing his part to make gender equality a reality with increase in ratio of women work force at Hyatt Regency Kolkata. Mr. Nil spoke about his own upbringing from a very conservative family discussed his struggles particularly about wanting a career in fashion design rather than the norm of what family and society wanted from him. He discussed his mother's support and encouragement which allowed him to make his own path. He spoke about his active support in gay pride which is the promotion of self-affirmation, dignity, equality, which works towards opposing the shame and social stigma, which is the predominant outlook that bolsters most LGBT rights.
Eastern Region Executive Committee members Mr. K.P. Sengupta, Co-Chairman, Data Core Systems, took a minute to speak about the company policy of his own organization highlighting the work women do and Mr. Joydeep Datta Gupta, Partner, Deloitte, gave the concluding remarks and vote of thanks and spoke about the initiatives taken by Deloitte. The session ended with Ms. Usha Uthup, enthralling the audience with some songs and Mr. Francis Lepcher, performer and singer, entertaining members with songs dedicated to the theme of the session.
Subscribe To My Newsletter
BE NOTIFIED ABOUT THE LATEST NEWS AND EVENTS
Get notified anywhere, anytime.