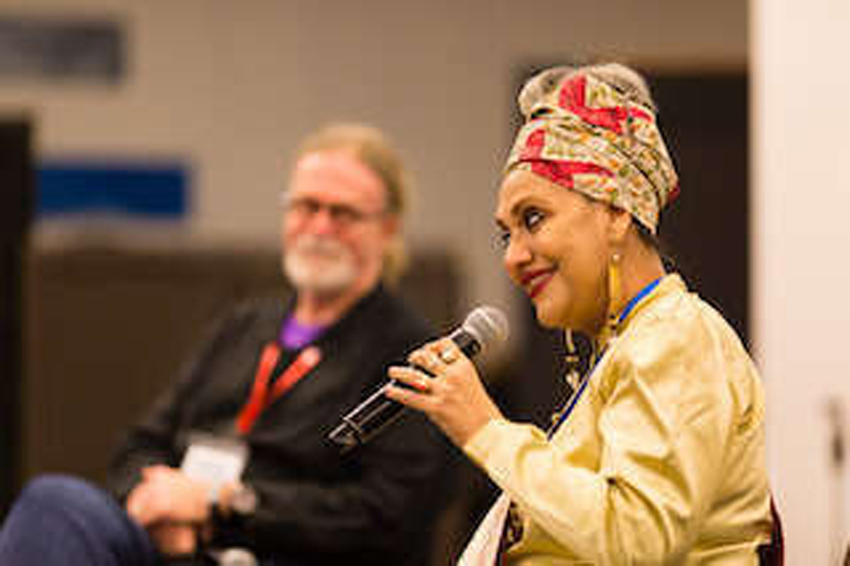 The third biennial international Shakespeare in Prisons Conference (SiPC) was held March 22–25, 2018 at The Old Globe in San Diego, part of the theatre's evolving Arts Engagement and Globe for All programs designed to make theatre matter to more people.
SiPC offers prison arts practitioners the opportunity to share their collective experiences working with incarcerated and post-incarcerated populations; rejuvenate passion; renew commitment for their vocation; and build upon their expanding network of peers.
Artists and educators engaged in transformational arts programs using Shakespeare in prisons around the world are brought together to explore and study the effects arts programming has on prison populations. SiPC promotes a collaborative learning forum that exposes participants to a diverse array of programs that all strive for a common result: the habilitation of the prisoner's mind, heart, body, and spirit.
Shakespeare at Notre Dame staged the first and second SiPC in November 2013 and January 2016, respectively. The Shakespeare in Prisons Conferences initiative is a flagship program of the Shakespeare in Prisons Network, founded at the University of Notre Dame by Curt L. Tofteland, Founder and Producing Director of Shakespeare Behind Bars; Scott Jackson, Executive Director of Shakespeare at Notre Dame; and Dr. Peter Holland, McMeel Family Chair in Shakespeare Studies at the University of Notre Dame.
Program Partners:
Shakespeare at Notre Dame (Scott Jackson, Executive Director);
Shakespeare Behind Bars (Curt L. Tofteland, Founder and Producing Director);
The Old Globe (Department of Arts Engagement).
Additional Partners: San Diego County Sheriff's Department; Las Colinas Women's Detention and Reentry Facility; California State Prison, Centinela.
The 2018 Shakespeare in Prisons Conference is generously funded in part by Shakespeare at Notre Dame and the Ryan Memorial Foundation. Financial support of The Old Globe is provided by The City of San Diego. Sponsorship of the Globe's Reflecting Shakespeare program, serving incarcerated people at Las Colinas and Centinela, is also provided by The James Irvine Foundation and the California Department of Corrections and Rehabilitation.
Source: Shakespeare in prison conference
Subscribe To My Newsletter
BE NOTIFIED ABOUT THE LATEST NEWS AND EVENTS
Get notified anywhere, anytime.